TAKE CARE OF YOUR TIGHTS AND TREAT THEM RIGHT
Being sustainable does not end with the purchase of a pair of our AYMA tights. It extends into how you take care of them. Our tights are made of the highest quality fiber; however, the very nature of tights makes them delicate products. Here are some tips how to make them last longer.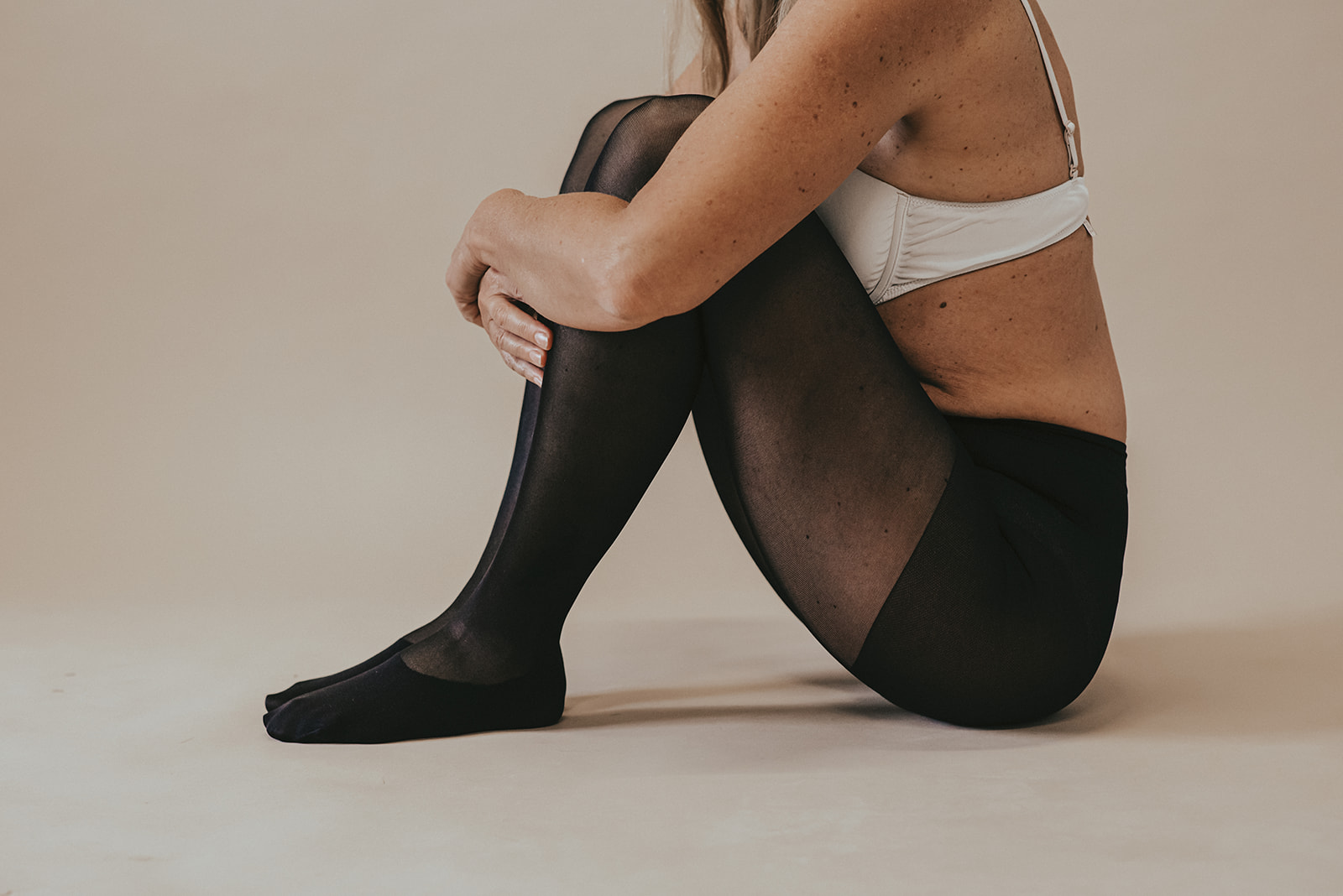 BEFORE YOU PUT ON YOUR TIGHTS
Remove all jewellery before you put your tights on.
Make sure fingernails and toenails are nice and smooth to avoid snags. Make sure your legs are not wet from the shower when putting your tights on – they will glide up easier on dry legs. Moisturizing your hands just for the sake of your tights might sound over-the-top but they will love you for it. Because dry hands can be damaging for your tights.
HOW TO PUT ON YOUR TIGHTS
Give them a nice stretch before you carefully roll your tights up. Don't yank on them. If you need to adjust the waistband once they're on, don't yank them up either, adjust the legs first so you don't overstretch them.
A love letter to you from our loved ladder-resistant tights:
Tights remain a delicate product and require – despite their ladder-resistance – loving care. Our ladder-resistant tights are resistant against ladders, which means that if you are unfortunate enough to damage it; it will not make ladders out of it. It is durable, but unfortunately not unbreakable.
WASH LESS THANKS TO ITS ODOR CONTROL FUNCTION
All our tights are treated with a special odor control. At first, this prevents bacteria from adhering to the textile, and additionally to that, it adsorbs odors during wear. This means much more wearing comfort and saving water and energy through less washing. The tights can also simply be aired out after wearing and can be used more times before washing. Who does not love less laundry? If you feel like your tights need a wash, put them in our dustbag to protect them while washing*. We advise cold wash or max. 30 and to wash them with similar colors.
*Please note that for your Brazil tights we recommend hand wash only.
DRY YOUR TIGHTS NATURALLY
Gently take your tights out of the dust bag after washing and choose to air-dry them naturally. Do not tumble dry or dry on a direct heat source.
STORE YOUR TIGHTS RIGHT
Give your tights the needed attention, even during storage in the closet. It is something your tights and you will be thankful for later. Gently put them in our dust bag and let them look nicely in your closet.
TRAVEL SAFELY
How exciting! Your tights are going places with you. Do not forget to use our dust bag to protect your tights while travelling. It will save you from disappointment when unpacking your bag at your destination. Happy travels!
FIRST AID
If there is a snag, pull very carefully on both sides or smooth it out a bit, it will either disappear or at least not get any bigger.